These still Images of Steve Elkington's swing will not fully capture the motion, always remember when looking at these static pictures that the positions you see frozen are part of a dynamic sequence of motion that is linked together by the things that preceded it. Steve's set up is purposeful his thoughts are focused intently on a very specific target. He is always moving during set up with a waggle of the club from the wrists. Transferring information from his eyes to his educated hands.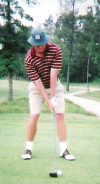 Steve Elkington's swing is one of the finest sights in golf and reflects the mastery of the skills required starting from the grip. Steve has an obsession with a correct grip and looking at the way he places his hands on the golf club the forefingers and thumbs are virtually sewn together as Steve places his hands on the golf club, there are no gaps. He uses the vardon grip which is when the little finger of the right hand is placed over the index finger of the left.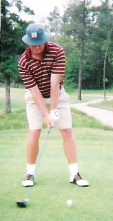 Steve stands with his feet turned slightly outward to accommodate the full turn of the backswing. His target is burned into his mind and his body in position for the backswing.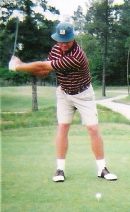 Steve's backswing is driven by the turning of the abdominal muscles to the right with a sensation of slamming the abs into the rib cage.
The wrists, arms and body are all fully loaded at the top of the swing and Steve is in position behind the ball to deliver the goods.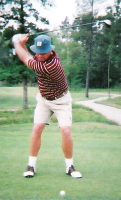 Having taken care of the grip, stance, posture and backswing the move down is just a natural transition within the flowing sequence of Steves swing. The club head approaches from the inside quadrant of the ball. Steves mind is monitoring his hands.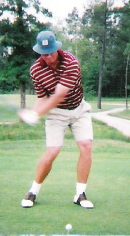 His move from the top is as good as it gets, there is no independent motion from the arms or the hands. Everything is being moved by the core muscles of the abdomen. Resulting in a swing with no slack so Steve puts everything he has into the golf ball and the window of dispersion is minimal.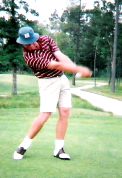 The trophy cabinet is full as a result of these mechanics but perhaps Steve greatest asset is his unbelievable rhythm, tempo and balance. Which is not purely a result of a focus on rhythm itself but a focus on all of the fundamentals that we have detailed falling into place and moving together as they should.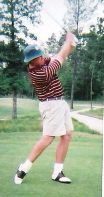 Steve has incredible co-ordination, flexibility that a ballet dancer would be proud of and buckets full of natural talent. If there is a perfect swing model this is it. Our thanks to the Elk & Steve's coach Ben Doyle the master of swing mechanics, and my finest mentor for allowing us to view these images.